Escape the High Cost of Living in NYC: Discover the Nearest Affordable Areas to Move to Today
Why is NYC so expensive?
Living in NYC is so expensive abetted by steep tax rates, high product prices, and high conveyance costs.  This real estate market is very competitive with tremendous housing demand that results in soaring home prices every two-three months.
NYC is at the top of the global economy and education, which makes it a costly place to work, study and travel. Yet the city's attractions draw dwellers and new populations every year.
6 Affordable places with shortest commute to NYC
Bayonne
Bayonne is a New Jersey city.  Despite being in a different region, Bayonne has four easy ways to commute to Manhattan via tram, bus, subway or car.  The fastest transpose can be achieved by a taxi or a car to cross the 9.5 mi distance in 19 minutes.
Bayonne offers the right collaboration of a suburban-urban lifestyle at a reasonable price.  Bayonne's median sale price is trending down 13.1% year-over-year.  In addition, the lower cost of living than most cities close to NYC makes it a desirable location for renters and potential home buyers to locate for a long time.  NYC's living costs are 80% higher than the national average, while Bayonne's is 21%. Just by switching states, residents can cut much of the price of livelihood.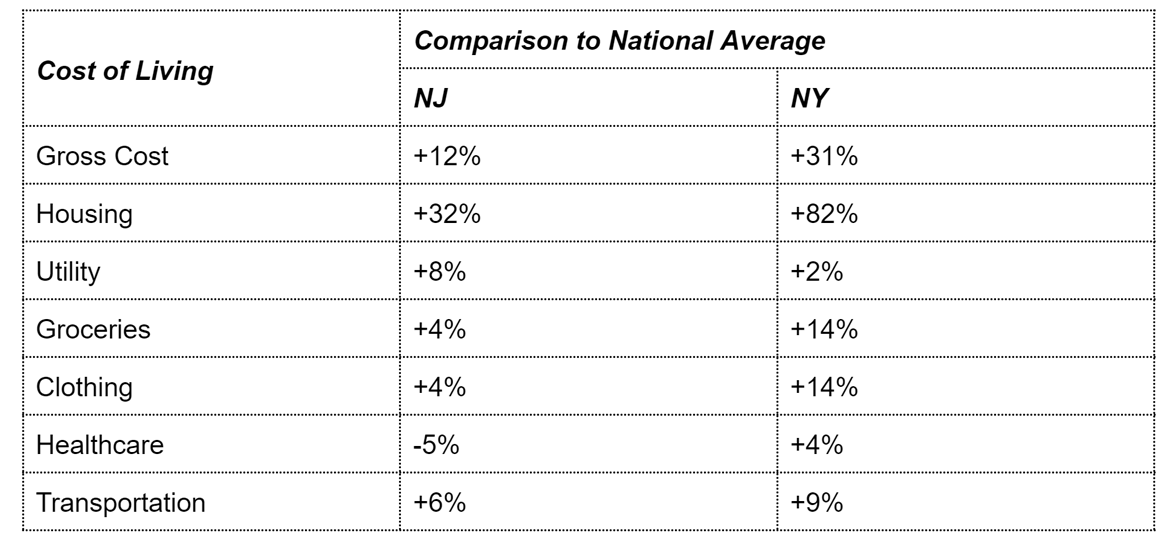 Ardsley
Ardsley is a village in Westchester County with a mixed population of natives and non-native locales.  Like other NYC suburban areas, the majority of Ardsley's population requires housing for family living.  High affordability, an opportunity for excellent schooling, and proximity to metropolitan Manhattan make Ardsley a preferable destination for people looking to move to an area closer to New York City.
Ardsley is 24.4 miles from NYC, which allows wage-earners to commute in less than an hour.  In February 2023, Ardsley's housing prices dropped 10.2% over the previous year.  As of March, the fall reached 29.8% setting a median price of $600,000.  Transportation is also relatively inexpensive in the area, making it convenient for residents to move around.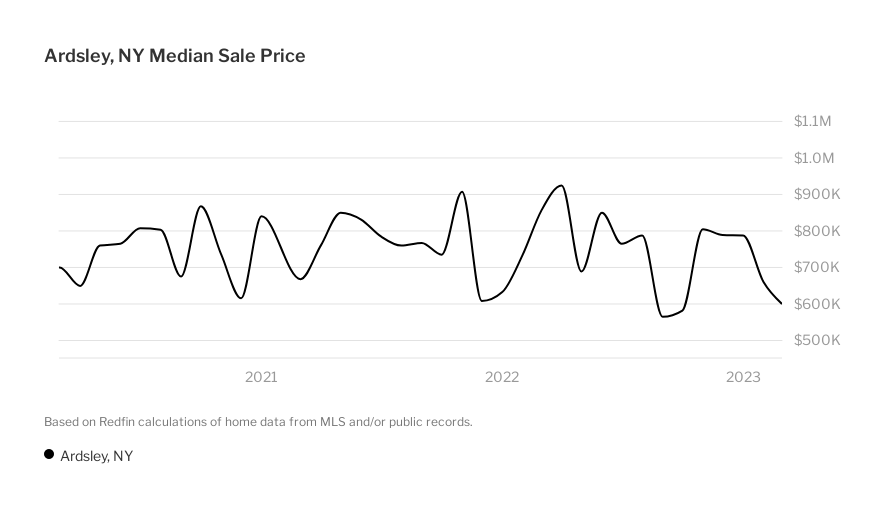 Median Sale Price Dropped in Ardsley. Source: Redfin.com
Bronxville
People choose to live in Bronxville for its high living standards.  The affluent community offers good education, a low crime rate, and overall happy societal aura to its people.  The city is just 30 minutes distant from New York City, which facilitates many people to relocate here.
The median list price of the real estate is $545K in March 2023.  The median rent for all property types is below $3.5K, lower than NYC.  Although the living cost is not so far from NYC's, Bronxville can be the first choice when it comes to finding the fastest route to the city.
Hawthorne
Hawthorne is a suburb of New York City inhabited by 4,609 people.  The area is located in the central part of Westchester County, which makes it conveniently accessible from the city.
Hawthorne is a residential community with affordable housing offerings.  With its calm appearance, you can contemplate living in a quite spacious property below $750K.  The median sale price is down 14.7% year-over-year.  Hawthorne homes are anticipated to be listed at a tolerable price this year.  In comparison to March 2022, the price has decreased by more than a hundred thousand dollars.
There's more to Hawthorne than just being affordable for the foreseeable months.  The properties were always priced to accommodate the moderate-income population.
Tarrytown
It will take less than 60 minutes to reach New York City from Tarrytown Village.  It has a list of interests that makes moving even more meaningful.  These pros include high government expenditure, low calamity risk, low cancer mortality, and a high literacy rate.
The biggest advantage of living in this river town is the lower living expenses.  As a resident of Tarrytown, you are assessed with low property tax.  With the remarkable downturn by 48.6% in home prices, housing is at its most reasonable value.  The median price is $253K for both homes and condos. Tarrytown would be the pertinent option if you are in an emergency need to move to a modest place near NYC.
Home Prices Are Down 48.6% in Tarrytown. Source: Redfin.com
Cold Spring
Cold Spring is one of the most affordable Putnam County towns that would ease up on your livelihood.  With its very low crime rate, it provides the safety every resider seeks in an unfamiliar town.  Via public transport, people can reach central New York City in one hour and minutes.
In March 2023, Cold Spring's housing trended down 17.8%.  The list price is $550K for different types of properties.  The lower cost of groceries also saves money on day-to-day expenses.
What is the difference like living in the city and suburbs?
Moving to a suburb does not mean you have to sacrifice all the comforts but some.  Although NYC is the heart of everything, the boasting economy of developing villages and small towns closest to the city is drawing the attention of young professionals and new families.  People should look around instead of paying a lot for city lifestyles.  It saves you money for the upcoming days apart from cutting the price for today.